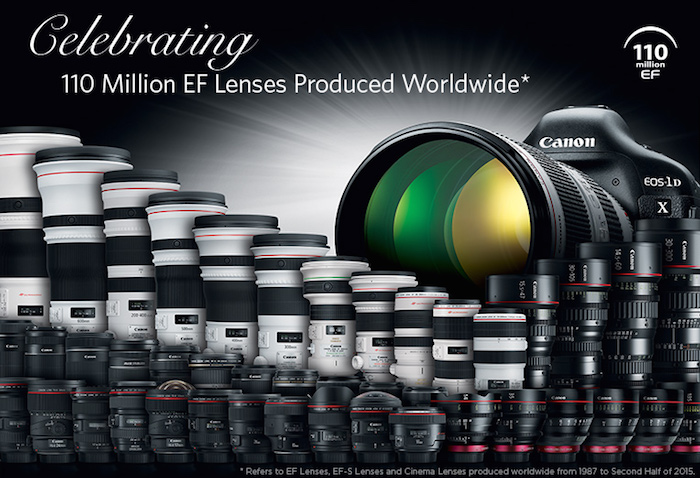 ---
I have been a wildlife photographer using Canon equipment for over 30 years. Through the decades, I have used almost all of Canon's cropped and full frame cameras and their EF and EF-S lenses. Every year I go on quite a few photo shoots worldwide, put my equipment to the test and learn from my experience out in the field.

As many of you may know, my preference is to travel light on photo shoots and generally carry zoom instead of prime lens. There is a never ending debate on the image quality of professional prime vs. zoom lens but for my purposes, the difference is without a distinction and I will let the situation dictates the lens instead of the other way round. The following lenses are some of my recommendation, derived from years of experience out in the field on photo shoots. These are my personal opinion and will not accommodate every situation or photographer's needs. If price is a consideration, do not hesitate to consider buying Canon Refurbished Equipment. I have done it many times for my backup equipment and have been completely satisfied. Read my blog post on buying refurbished and find out how.


My Canon Landscape and Wildlife Lens Recommendation :


Canon EF 24-105mm f/4L IS II - A great value and all round lens for travel, landscape and wildlife photography. This lens is always on my EOS-1D X Mark II or EOS-5Ds cameras when I take travel or closeup wildlife shots. It offers excellent build and image quality at a reasonable price. The focal lengths and speed are ideal for indoor and outdoor shooting conditions. The lens offers a 4 stop compensation and comes with the latest coatings and fluorite technology.

Canon EF 16-35mm f/2.8L II - This lens is great for wide angle landscape shots on full frame cameras like the 1Ds Mk III or EOS-5D Mk III. It also serves as a versatile travel lens on the EOS-1D X and Mk IV as well. Very sharp and fast. Can be used indoors when flash photography is prohibited. Adding IS to this lens would be a nice addition but that would add additional weight. If price is a consideration, then I would recommend the Canon EF 17-40mm f/4L lens. Canon has announced the EF 16-35mm f/4L IS lens and EF 16-35mm f/2.8L III lens. I may be adding them to my equipment bag once I get to use it for a while.

Canon EF 11-24mm f/4L Ultra Wide - With its zoom focal length, this lens is the widest, non fisheye zoom lens available on the market. It delivers 126° diagonal angle of view for full frame EOS cameras. Its new optical design features Super UD and UD lenses that correct chromatic aberration. Four aspheric lens elements help to minimize distortion from the center of the image to the periphery and throughout the zoom range. Constructed to L-series specifications, the EF 11-24mm f/4L USM is durable and rugged due to its highly dust and water resistant design, so it is prepared for shooting in any number of environments. I use this lens to photograph large herds of animals or capture stunning nature photos. I may add this lens to my equipment bag down the road.

Canon EF 8-15mm f/4L Fisheye - With its unique focal length range, this lens is the widest fisheye zoom lens available on the market. It delivers 180° diagonal angle of view images for all EOS SLR cameras with imaging formats ranging from full-frame to APS-C, and provides 180° circular fisheye images for full-frame EOS models. I use this lens to photograph whales and other marine animals when I am in the water. To do it professionally, I use my EOS-1D Mk IV camera with the lens and the AquaTech underwater housing, topped with a dome lens port for maximum angle of view. On land, this super wide angle lens will capture stunning nature photos and stimulate creativity.

Canon EF 70-200mm f/2.8L IS II - Super sharp and fast lens for close up wildlife action, providing up to 4 stops of correction and fixed aperture at all focal lengths. I have used this lens for years and the latest version is the best yet. An excellent lens for closeup, low light travel and wildlife photography and works well with both the 1.4X and 2.0X extenders. Very solidly built and stands up to heavy duty field use. If price is a consideration, then purchase the Canon EF 70-200mm f/4L lens.

Canon EF 70-300mm f/4-5.6L IS - I held off buying this lens for a while because the EF 70-300mm DO was such a disappointment for me. The extra reach and lighter weight ( compared to the EF 70-200mm f/2.8L IS II ) of this lens comes in handy when I am photographing larger wildlife in decent light. Excellent 4 stop IS compensation. Another great lens for cetacean and wildlife photo shoots. The drawback is extenders cannot be used on this lens.

Canon EF 100-400mm f/4.5-5.6L IS II - A 'light weight', all round wildlife lens with an excellent IQ and built quality. It uses a zoom ring design to get from 100mm to 400mm. This is a successor to the venerable Series I version and is a culmination of advanced optics, coatings and material advancement in the last decade plus. Excellent for wildlife and bird photography. Image quality is fantastic with or without the 1.4X extender on EOS-1D bodies. You can read my review of this lens on my blog.

Canon EF 28-300mm f/3.5-5.6L IS - There are situations when I am restricted to just one lens or it is impractical to change lens in the middle of a shoot, then I reach for the EF 28-300mm. This versatile 10X+ zoom lens has very good optical performance and can focus down to less than two and a half feet over the entire focal length. One can use this as an emergency macro lens, especially when used with the APS-C camera. This is a great wildlife lens especially in Hawaii. I call this my 'Maui lens' because the Humpback whales can approach to just a few feet from my zodiac and this lens will capture the image with little problem, even on APS-C cameras. The drawback is the weight, at 3.7 pounds and handholding this lens with a EOS-1 body can be tiring after a while.

Canon EF 300mm f/2.8L IS II - Another superb, handholdable wildlife lens. If speed is not paramount, I will use the EF 300mm f/4L IS because it gives up a very small difference in sharpness at about half the weight and a fraction of the price. This lens works well with the 1.4x and 2.0x extenders. Image quality is excellent and the lens is tack sharp, even with the 1.4x extender mounted.

Canon EF 400mm f/4 DO IS II - This is my favorite Canon lens for handheld wildlife photography. This Series II lens is the successor to the world's first Diffractive Optics Super Telephoto lens launched in 2001. The weight, speed and performance combination of this amazing glass is hard to beat for a full day's photo shoot without a tripod. I have taken many of my bird-in-flight shots with the Series I lens and no doubt will have plenty more with its successor. The lens performs well with the 1.4X and 2.0X extenders. When used with the EOS-1D MK IV, I can shoot at 1000mm focal length handholding the combo. This gives me unmatched mobility and reach. You can read my review of this lens on my blog.

Canon EF 400mm f/5.6L - Another one of my favorite Canon lens for wildlife photography. Light and sharp with an excellent built quality and performance combination. This lens is a great value and tough to beat for a full day's photo shoot without a tripod. When I want to go even lighter than the EF 400mm f/4 DO IS II and the light is good, this is the lens I reach for. It also performs well with the 1.4X and 2.0X extenders. When using this lens with the EOS-1D bodies, AF is achieved with the 1.4X but MF is required with the 2.0X extender. A Series II version of this lens with the latest coatings and a 4 stop IS system has been talked about for years and may come about eventually.

Canon EF 200-400mm f/4L IS USM Extender 1.4x - My ideal lens combo for wildlife photography is the EF 70-200mm f/2.8L IS II and the EF 200-400mm f/4L IS with the built in 1.4X extender. This way I can travel 'light' and still have the highest quality glass covering a wide range of focal lengths. Canon finally released this lens for sale on May 14, 2013 at a price of $11,799, reduced to $10,999 recently. Click here to read my review of this revolutionary lens. I have put this amazing glass through many vigorous wildlife photo shoots around the globe and it continues to surprise me by its performance.

Canon EF 500mm f/4L IS II - One of my favorite Super telephoto lens in Canon's lineup. I have the Series II version and this is one of their sharpest and a great wildlife lens. When I use a full sized tripod, this glass is my choice and sometimes I handhold this lens for a short period of time. The Series I lens has been discontinued but one can still buy it from dealers with refurbished inventory. The new lens comes with superior optics and coatings, is incrementally better in every way and reduces the weight by 1 1/2 pound.

The improvement comes at a higher price, reduced to $8,999 recently. If you already have the Series I lens, I am not recommending an upgrade unless reducing weight is your primary concern. Personally, I find the marginal improvement not to be a good value but since I sold my Series I lens for a good price, buying the Series II is a no-brainer. For those with less funds to spend, try and purchase a lightly used or factory reconditioned Series I lens and save. Click here to see how the EF 500mm f/4L lens is made.

I am not a fan of the big and heavy Super telephoto prime lenses like the EF 800mm f/5.6L, EF 600mm f/4L and EF 400mm f/2.8L, Series I and II. The incremental reach or speed I get out of them is offset by their weight and 'immobility'. Occasionally, when I have the need to use one of these lenses, I find them to be an excellent choice for wildlife that are next to impossible to approach 'closer' or too 'dark' to photograph.

You can subscribe to my updates on Facebook , Twitter , Instagram and Blog to follow my travels and join me on my photo shoots. Keep checking back here for more hands-on reviews of Canon's lenses after I return from the field.