In line with previous EOS-1 series cameras, the 1D-X Mark II is designed for use in harsh environments. The Mark II is slightly taller, in order to accommodate the GPS unit on top. Those who are accustomed to the EOS-1D X, EOS-1Ds Mark III, EOS-1D Mark III and IV, will feel right at home. The camera's ergonomics are practically identical and retains the dust and drip-proof construction of the EOS-1D X, using a total of 76 seals around buttons and body joints to help keep water and dust out.
Two features I like a lot are the added Start/Stop video button on the back of the camera and the dual card slots - one CF and one CFast. The EOS-1D X Mark II can shoot a continuous burst of 170 full-res RAW files, compared to 38 full-res RAW files on the EOS-1D X, thanks to the use of CFast memory card.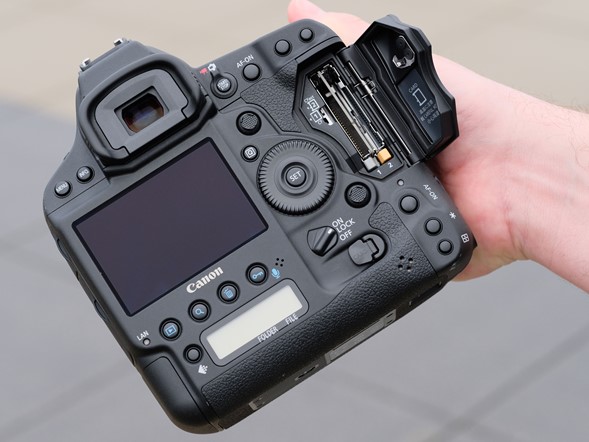 CFast 2.0 has a write speed of around 440MB per second vs about 150MB per second for the fastest CF cards, albeit at a considerably higher price. Having 2 different card slots make the camera more versatile, especially in light of the increased memory capacity on these cards nowadays. You can see the difference between the two cards' speed in the video below.
When combined with Canon Super Telephoto and L-series EF lenses, the camera/lens package is sealed and weather resistant. The Magnesium alloy body shell stands up to heavy-duty professional use.
There is a new charger (LC-E19) and more powerful battery (LP-E19) but the LP-E4 and LP-E4N batteries of the older cameras and the new battery are forward and backward compatible but the chargers are not. After using so many Canon camera models, I am not enamored of technical and marketing hype. Over the next few months, I will be taking the EOS-1D X Mark II on more grueling global photo shoots to test the new body.
There are a number of features I want to give especially vigorous field tests on :
AF sensitivity down to EV -3
Dual Pixel CMOS enables continuous AF when shooting stills and 4K videos
DIGIC 6 powered dedicated metering system
Expanded ISO range and built-in AD converter. Anything >6400 is too noisy anyway
AF system with 61 points, 41 cross-type, 5 dual-type plus all AF points usable @ f/8
Please be patient while I perform more real world tests on this camera and add additional comments to this review as I return from more of my trips. In the meantime, you can
see my equipment bag
and works on
MichaelDanielHo.com
.
Also, follow me on
Facebook
,
Twitter
,
Instagram
and my
Blog
to keep up with my travels and join me on my
photo trips
.
Here is my impression after testing the camera on a few real world, wildlife photo trips. The EOS-1D X Mark II's behavior and ergonomics are very similar to the original EOS-1D X. The camera performs almost exactly as advertised and the image quality is excellent. However, I have to wait and see how well the new camera holds up to its professional grade designation. My previous EOS-1D X died on me after about 3+ years while on an Alaskan photo shoot due to a burned out circuit board. It had a shot count of less than 300,000.
The additional 2 megapixel and 2fps increase in the Mark II's sensor and burst rate are nice. Now I have a little bit more pixels to work with when cropping images.
For long time EOS-1 users, the EOS-1D X Mark II viewfinder's ability to display AF points with full-time, red illumination is most welcomed. The photo below shows all the potential shooting information that can appear in the viewfinder. Individual preferences will determine what is visible during shooting.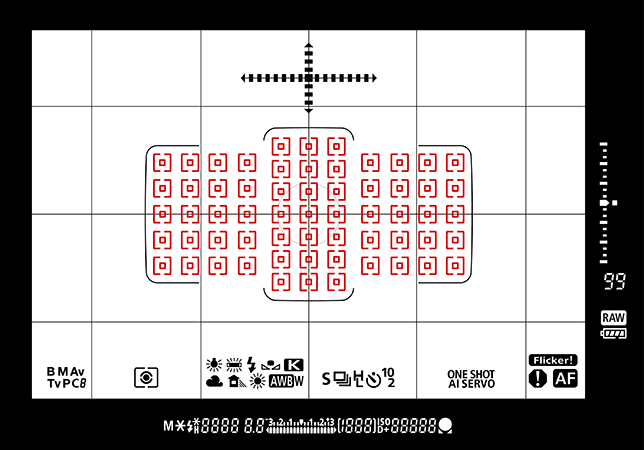 The illuminated AF points started with the EOS-1Ds Mark III and EOS-1D Mark III cameras but they only light up briefly at the start of AF and flashes again when in focus. By contrast, the EOS-1D Mark IV has one single AF point illuminated all the time. Canon should have made the lighted AF points available in the EOS-7D Mark II and EOS-5Ds cameras as well. The illuminated AF points make it easier to see them in a wide range of lighting conditions. When I am shooting in very bright light, I set the points at their brightest, in the AF menu, under the AF Point Brightness setting.
The new AF system locks on a bit faster, especially under the poor lighting conditions in the Amazonian jungle. I credit this to the Dual Pixel CMOS technology and the higher AF sensitivity of EV -3, versus the EV -2 rating of the EOS-1D X.
The 61 selectable AF points at f/8 is also a winner. This a first in any EOS-1 series body. Depending on the lens used, the EOS-1D X Mark II offers the ability to focus at f/8 on all 61 AF points. This means I can double the focal length of the
EF 400mm f/4 DO IS II lens
(my favorite handholdable Super Telephoto) with the 2.0x extender and still have access to all AF points, including the 21 cross-type points, and getting both horizontal and vertical focusing. The 61 AF point feature is only available with the Series III extender. Frankly, I find 61 AF points too many to choose from already.
The Mark II's dedicated metering processor is now powered by a DIGIC 6 processor, instead of a DIGIC 4 on the Mark I. The pixel count has increased to 360,000 from 100,000. The new integrated IR pixels now detect infrared light and should offer greater precision and improved AF and EOS Scene Detection System accuracy. Metered zones on the EOS-1D X Mark II has decreased from 252 (EOS-1D X) to 216 and spot metering reads only 1.5% of the frame, compared with 2.5% on the Mark I. This feature will take some time to analyze after relevant images have been processed and examined.
The face detection and color tracking abilities of the 360,000 pixel RGB+IR sensor are passed onto the EOS Intelligent Tracking and Recognition system. As in the EOS-7D Mark II, improved algorithms are built into the EOS iTR AF to increase subject tracking performance. In addition to a human face recognition, a subject tracking mode has been added to further enhance capabilities.
Like the EOS-1D X, the Mark II features six AF Case study settings to help users customize their preferences and shooting conditions. These case studies provide different setups for the three different AF preference settings of Tracking Sensitivity, Acceleration/Deceleration tracking and AF Point Auto Switching. The following Canon video explains how the sophisticated AF system works on the EOS-1D X. It is even better on the Mark II, powered by a more powerful DIGIC 6 processor.
Both cameras have identical native ISO range of 100-51200, but the EOS-1D X Mark II adds 1 stop in the expanded sensitivity range, to a maximum ISO 409600. The built-in A/D converter on the new camera is supposed to help in high ISO noise reduction. I am not a 'charts and graphs' kind of photographer but so far I find it a case of difference without a distinction. For photographing moving wildlife in dim light, I rarely go over ISO 3200 anyway.
The high burst rate on my camera is set @ 14 fps and low @ 10 fps but end up using the low setting most of the time, even when taking Hummingbirds and bird-in-flight shots.
Found no perceptible increase in the shot counts with the new battery. All operations, like Auto Focusing and Image Stabilization, are powered by the LP-E19 battery. Continually focusing and Image Stabilizing deplete the battery faster. Large Telephoto lenses draw more power and it is crucial to have plenty of spares when out on photo shoots. Set the IS Mode on the lens to 3 and minimize battery drain because Image Stabilization only activates moments before the shutter release button is fully depressed.
When I go on location to very cold places like the Arctic and Hudson Bay, the maximum burst rate of the camera will decrease. Under severely low temperatures, the battery will not be able to provide the maximum power. The burst rate can drop to as low as 10fps. Make sure you have plenty of spare batteries stored in an insulated and 'warm' place for immediate replacement.
The built-in GPS receiver on the EOS-1D X Mark II records the GPS coordinates directly into the EXIF data of each image. The GPS info displays a 2D or 3D notification next to the Satellite Reception setting. 3D indicates elevation data in addition to Latitude and Longitude. If the satellite signals are obstructed in any way, you may see only 2D GPS information.
I have no use for the built-in GPS in the EOS-1D X Mark II or the
EOS-7D Mark II
for that matter. Much prefer to have a built-in flash instead. Wish Canon will get over the notion that professional cameras do not come with flash. The convenience and quick access to an additional light source will greatly enhance my
wildlife photography
needs and I believe many other photographers as well.
For those who want to know more about EOS-1D X Mark II's impressive features, download the
User Manual
plus
User Guidebook
and peruse it at your leisure. You can also get some shooting tips from a
recent post on my Blog
. Keep checking back on this page to see my latest trip comments and photos from this incredible camera.